Hello, Multiplex/Multiplex 10 fans!
I'm giving away THREE awesome prize packs to three backers selected at random, who have pledged to the Multiplex 10: The Web Series Kickstarter project for ANY amoung—BEFORE we pass the half-way point.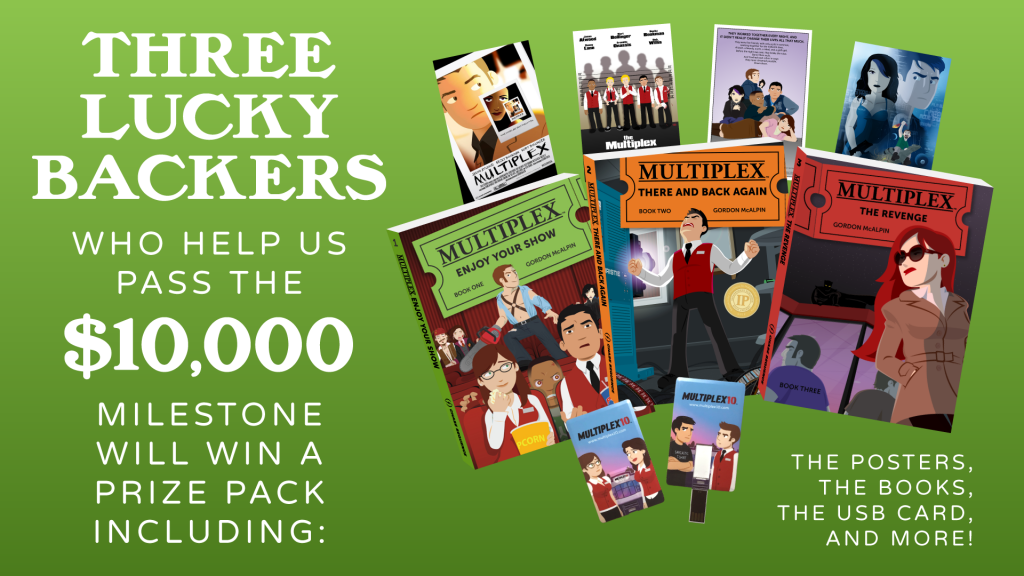 The prize pack includes:
Signed and sketched copies of all three Multiplex print collections to date
A Multiplex 10: The Animated Short USB card
The Multiplex mini-poster set
A 6″x8″ brush and ink sketch of the person or character of your choice
plus some other dumb stuff like a bookmark and some postcards that you can use… as bookmarks!
Between the three books—the very nearly completely out of print Multiplex: Enjoy Your Show (Book 1), Multiplex: There and Back Again (Book 2), and Multiplex: The Revenge (Book 3) contain over 90 pages of new material between them, including a 12-page Prequel story and a new arc in Book Three encompassing the opening nights of The Dark Knight and Watchmen!
SO YEAH! Pledge today and pledge AS MUCH AS YOU CAN. The more you pledge, the higher your chances of winning are, because it gets us to the $10,000 milestone faster. 🙂
NOTE: Shipping is included if you're in the United States. International backers will need to cover shipping costs. Some items may ship separately.)