As of the RIGHT NOW — 10pm on Tuesday, July 10 — there are exactly seven days remaining in the Multiplex 10: The Web Series Kickstarter project! We've raised over 83% of our funding goal, putting us well within striking distance of the base goal for the upcoming final push!
Thanks to hitting a $16,000 milestone goal really early, the Kickstarter campaign funds more than just additional web series episodes and animated movie reviews:
There will be three shorter movie reviews with Jason (rewards for our Co-Executive Producer backers).
It will also fund a series of strips where Kurt and Jason "review" (from a certain point of view) the Star Wars, Harry Potter, and Lord of the Rings (and Hobbit) movies — twenty-four of the nerdiest movies you all know and love. I'm going to have a little fun with the format, and while the animation deadlines will take precedence, I'm hoping to make them one a fairly regular basis — so the Multiplex 10 Cinemas staff (or two of them) will be in a webcomic again.
AND while this is an unofficial reward, Joe Dunn has threatened to feature the Multiplex 10 cast in two strips a week for three months. Here's one of his recent misappropriations of these characters: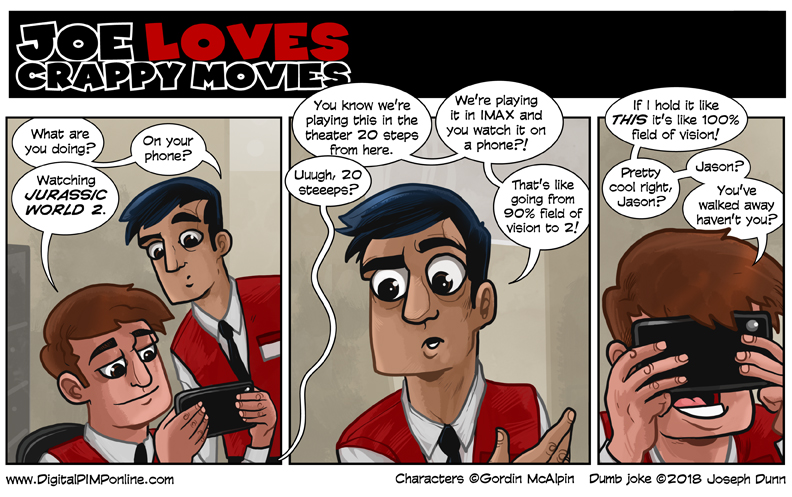 But none of this happens unless we hit that base goal, so don't wait! No matter how good things look right now, the sooner we hit the base goal, the better. Funded projects always see a big boost in pledges — people just love "betting" on a sure thing.
Other News & Updates
Animation for Adults interviewed me about Multiplex and Multiplex 10! Most of you already know the origins of the comic strip, but we talked a little about my influences and my goofy ass elevator pitch for a Multiplex 10 TV series.
Multiplex 10: The Animated Short has been officially selected by the Independent Cinema Summer Showcase! It will screen at the event in Los Angeles, CA, on July 29th, but I don't have any more details beyond that right now.
Leigh Lahav (who will be writing an upcoming Multiplex 10 episode provided the project gets successfully funded) just posted a new video TODAY — "The Infinite Place." Check out that shirt, because it's funny as fork!