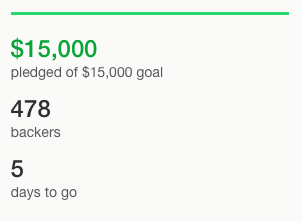 Thanks to Phat Do and 477 other backers and also the one person who just pledged since I started typing this — the Multiplex 10 animated pilot is FUNDED!
I think I can safely speak for the cast & crew and say that we are incredibly thrilled to have this opportunity to bring Kurt and Jason and the rest of the Multiplex 10 gang to life. Thank you so much for all your support.
What's even better is that we still have four days to go! As I've said before, the more money we raise, the better the short can be.
We do have one official stretch goal. At $20,000, we'll be able to add…
Smoother, 4K animation (involving a couple of additional animators)
5.1 Surround Sound mix
A theatrical premiere at the Somerville Theatre here in Somerville, MA. (All backers at the Special Thanks level and up will have free admission, though you will need to RSVP. Transportation is not provided.)
And, of course, the more money we raise, the more money we have to promote and distribution the finished short — which will help increase our chances of producing MORE Multiplex 10.
Thank you, again. This is going to be fun.