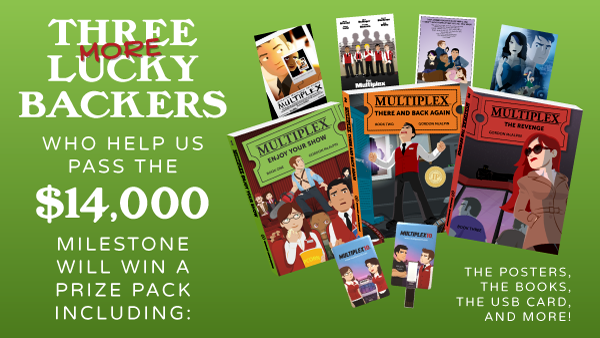 The Multiplex 10: The Web Series Kickstarter prize pack giveaway that I announced Monday morning succeeded beyond my wildest hopes!
I planned to do a different giveaway next, but because I thought I'd have more time to prep stuff, I'm not ready to do that one yet—so I'm just gonna do the first one… again, meaning everyone who has backed to date has TWO chances of winning.
But… three more lucky backers who help us pass reach the $14,000 milestone (a.k.a. 75%) will win the same prize pack, which includes:
Signed and sketched copies of all three Multiplex print collections to date
A Multiplex 10: The Animated Short USB card
The Multiplex mini-poster set
A 6″x8″ brush and ink sketch of the person or character of your choice
plus some other dumb stuff like a bookmark and some postcards that you can use… as bookmarks!
SO YEAH! Pledge today and pledge AS MUCH AS YOU CAN. The more you pledge, the higher your chances of winning are, because it gets us closer to that 75% funding milestone. The 75% funding point is a huge one, because puts us in the "Nearly Funded" page of the Kickstarter search, increasing our discoverability on the site.